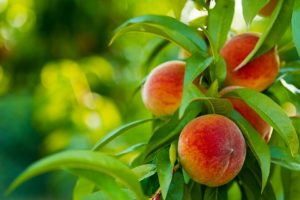 While we are currently awaiting some major concrete works which will be contributed by Council, our committee and members are working hard to reach out to the community and to build relationships and learn from each other. 
We thank Karen from Beachmere History and Research for putting us in touch with the Beachmere Community Association, which resulted in our group re-designing the gardens at the Community Hall in Progress Ave Beachmere.
We have also just held a wonderful Neighbour Day event in Beachmere where representatives of groups from all over the Moreton Bay region joined us for a day of discussion on inclusion and a great opportunity to get to know our neighbours!
Thank you to Moreton Bay Regional Council for supporting this event and for providing amazing refreshments. Cr. Booth offered his apologies as he was previously committed but we carried on the tradition of 'holding the basket of goodies' with our special guest Ms. Ali King MP taking up the challenge! 
Special thanks to Ms. King for attending and for the generous gift of the garden trolley (shown in photos below). This will be such a useful item for our garden – and has already been put to use!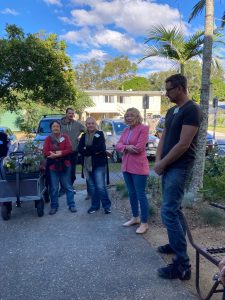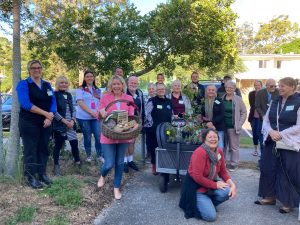 For more updates please read our latest Newsletter.
We would like to acknowledge and thank the following supporters of the Beachmere Community Garden:
Lions Club of Beachmere Inc.
Moreton Bay Regional Council
Cr. Mark Booth
Terry Young MP
Ali King MP
Men's Shed Beachmere
The Bribie Islander Magazine
Pelican Business Services
Fulton Hogan 
QTanks
Bunnings Morayfield
Collectors Corner Nursery Ningi
Meat City Morayfield
Kev & Ken's Morayfield
Green Door Bowen Therapy
Aware Lifestyle
Top 2 Toe Massage
BCGI has an affiliation with Garden Clubs of Australia
Please contact us if you would like to become a member of the Beachmere Community Garden Inc.
We have several classes of membership including Family and Junior. Please see memberships for more details.
Please also visit our Links page to find some interesting ideas and information.