Welcome to Beachmere Community Garden Inc. Established 2020
Our aim to provide a welcoming, green environment with something for everyone. With an established focus of accessibility and inclusivity for everyone in the community, we will initially be developing a sensory garden.
Our objectives are to….
Provide a place for all people to learn and be inspired about local, healthy, ethical food production in an urban environment
Provide a sensory space, accessible for people with disabilities
Educate and inspire children and people of all ages to grow food
Provide a community gathering place
Add to and improve local green space
Be guided by organic principles
Promote local, indigenous food plants
Promote methods to improve growing food in the local environment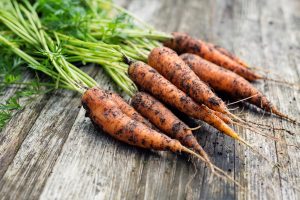 New members are invited to attend a meeting or contact the committee by email: beachmerecommunitygarden@outlook.com.
Our next General Meeting is on Sunday July 24th at 3.00pm at the Beachmere Community Hall, 5 Progress Ave, Beachmere.   Everyone is welcome.
While we are waiting for the final go-ahead from Council we are working on some community projects to help people with their gardens. Our most recent focus was working on improving the gardens at the front of the Beachmere Community Hall.  This was an excellent way for our members to do some hands-on gardening and fundraising at the same time.
Before and after photos show that this is progressing well.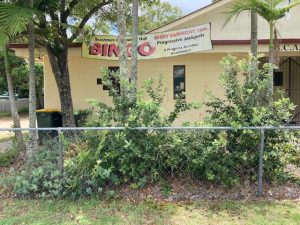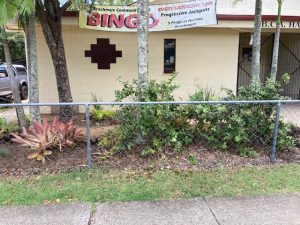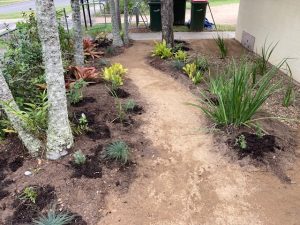 Before                                                              After
Our first AGM was held on Wednesday 24th November 2021. Our guest speaker was Cr Mark Booth. Minutes of this meeting are available here. (Chairperson & Treasurer Reports available on request)
Fundraising News – April
We ran the Sausage Sizzle at Bunnings Morayfield on Sunday  24th. This event was a wonderful success and we are keen to do another one soon. 
Thank you so much to everyone who helped in any way!
Donations are always very welcome.
Thank you again to Lions Club of Beachmere who are matching our fundraising efforts for this financial year!
December fundraising news:
We were successful in our application for a $2000 community grant for a much needed shade house. Thank you Moreton Bay Regional Council!
November fundraising news:
We are excited to have been successful in our recent application for a $2000 Community Support grant from Moreton Bay Regional Council for the purchase a shade house for the garden. We (and our plants) are extremely grateful to MBRC for this support.
October fundraising news:
We held our second successful Bunnings Sausage Sizzle in October raising much-needed funds for our upcoming projects. Thank you to everyone who helped with this event and thank you to Bunnings Morayfield for the opportunity.
We also held our third monthly Plant Stall and Garage Sale where we were pleased to meet many more people who came to grab a bargain and a new plant or two for their garden. Thank you to everyone who is coming along and supporting these events!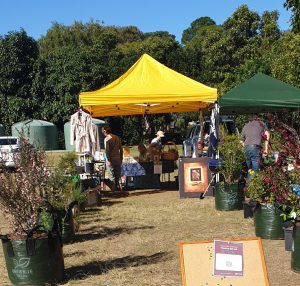 September Funding News! 
We have been lucky enough to receive a $2000 Community Support grant from Moreton Bay Regional Council to purchase a 7500L rainwater tank and a water feature. Watch this space for photos of these wonderful new additions to our garden… 
OUR THANKS GO TO MBRC FOR THEIR SUPPORT
July/August Funding News!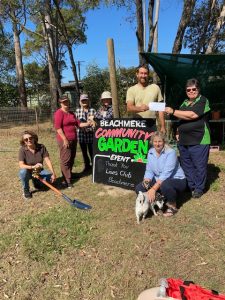 A big thank you to the Lions Club of Beachmere who have offered to support Beachmere Community Garden throughout the year by matching our fundraising efforts!
We received the first cheque for just over $2000 recently. This generous undertaking by Lions will enable BCG to move forward with our plans and build much-needed funds for the project
June Update
Thanks to the support of our local Councillor Mark Booth and the Moreton Bay Regional Council we have been granted a lease on a 299m2 block of land to develop our garden at 10 Biggs Avenue Beachmere (next to the water tower).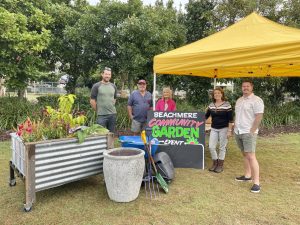 David, Steve, Yvonne and Jude happily receive the good news from Cr. Booth. The garden equipment has been purchased with funds from a Discretionary Fund grant from Cr. Booth and the wicking beds are being constructed with funds from a MBRC Community Support grant and the assistance of Beachmere Men's Shed.